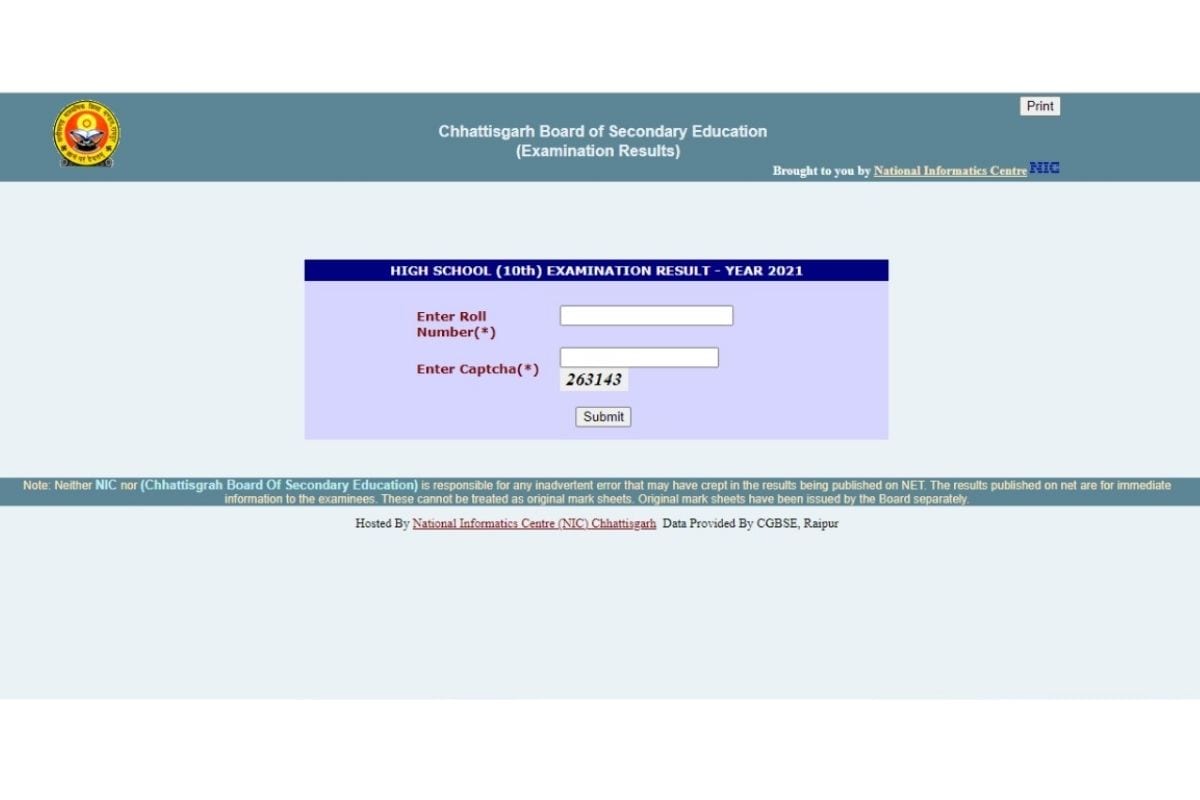 CG Board, CGBSE Result 2021: Its a happy result for both the board and students as the results Chhattisgarh Board of Secondary Education (CGBSE) declares the annual class 10 or CGBSE 10th results today. Students can check their results at the official website cgbse.nic.in. This year because of the COVID-19, the board has decided to pass all students. The result is being declared without exams and students have been evaluated based on their performance in assignments and practical exams. Those who did not score enough to pass or did not attend all classes will also be given the minimum needed marks, as per the Chhattisgarh Board.
CGBSE, CG Board LIVE Updates Chhattisgarh 10th Result 2021
Students can check their detailed marks online. This year, just like last year, students are not allowed to go to schools to check results and the official marksheet from the board will take a longer time to come. Thus, students will have to take a print out of the detailed marks given to them. This will act as a provisional marksheet. Students can download their marksheet from news18.com, cgbse.nic.in, results.cg.nic.in. They can also check their result via phone without the internet using SMS facility.
This year's result is faster as compared to last year. Last year the result was declared in June. This year the pass percentage has got up by nearly 30 per cent as in 2020, 73.62 per cent had passed and this year, thanks to the special policy, all 100 per cent students have passed.
In 2020, Pragya Kashyap had got 100% marks and had topper Chhattisgarh Board class 10 exams. She was closely followed by Prashansa Rajput who got 99.33 per cent marks and at third rank was obtained by Bharti Yadav with 98.67 per cent. All of the top three rank holders were females. The pass percentage of female students was higher than that of males. This year, the board has decided that it will not release the list of toppers.
Chhattisgarh Board CGBSE Class 10 Result 2021: Check via SMS
Students can check the CG Board Class 10 results through SMS by typing a message in this format: CG10ROLLNUMBER and send it to 56263. Candidates will get the Board Result via text message on their phone. Students must download a copy of their CGBSE Result 2021 for future reference.
Chhattisgarh Board, CGBSE 10th Result: How to Check
CGBSE Class 10th Result 2021: Documents Needed to Check Result
Step 1: Visit the official website
Step 2: Click on the result link
Step 3: Click on Link 1/2
Step 4: A new window will open, log-in using credentials
Step 5: Result will be out, download
CGBSE 10th Result: Check Result right here, no wait
Candidate can also check their result by registering to the form given below to get their marks sent to them via SMS or email –
CGBSE Class 10th Result 2021: Check this in your result
Once the result is out, students will have to check the result thoroughly. They will have to update the authorities in case of any issues. Students need to total the marks and see if there is any error. Students will have to check their roll number to ensure the marks entered are theirs. They also need to check the spelling of names, parents, schools etc. These credentials will make the mark sheet of class 10 which is an important document.
Chhattisgarh CGBSE 10th Results 2021: How CG Board Calculated Marks, Passing Criteria
This year, the CG board results have been declared through a video conferencing. Due to the ongoing pandemic situation, the CGBSE Class 10 Board exams were not held and students have been awarded marks on the basis of internal assignments.
CGBSE Class 10th Result 2021: Know the maximum score
This year, CGBSE has made a decision that a maximum of 72 marks can be given out of 75 in theory subjects while the same for practicals has been fixed at 68 out 70. A maximum of 29 out of 30 marks can be awarded for additional subjects. Due to the current circumstances, those candidates who were not able to appear for practical exams or projects due to COVID-19 have been awarded minimum passing marks.
After the results are out, those students not satisfied with their marks can appear for written examination. The exam will only be held after the pandemic situation dies down.
Due to the surge in the number of Covid-19 cases, Education Minister Ramesh Pokhriyal 'Nishank' had announced to cancel the Class 10 exams for CBSE. Even CISCE and several other state boards have cancelled the exam. All boards will be releasing results based on their special criterion.
Read all the Latest News, Breaking News and Coronavirus News here