Chris Gayle Celebrating Navratri With Gujrat Giants: India's legendary cricketer Virender Sehwag and West Indian charismatic batsman Chris Gayle celebrated Navratri in Jodhpur, where their team Gujarat Giants, owned by Adani Sportsline, participated in Legends League Cricket. The final leg match will be played at Barkatullah Khan Stadium on Monday.
The country is celebrating the grand festival of Navratri. The cricketers, who are usually seen in cricket gear on the field, appeared in the traditional look on this special occasion of Navratri. Gujarat Giants, led by Sehwag, have qualified for the playoffs and will play an eliminator at the Barkatullah Khan Stadium on Monday.
Let us tell you that Sehwag, Parthiv Patel, Kevin O'Brien, Graeme Swann, Richard Levy and Ajanta Mendis of Gujarat Giants are also part of his team. All these players were seen celebrating this festival with the team on the occasion of Navratri. The pictures of these players have come out, which we are showing you.
Navratri celebrated in Jodhpur
The celebration of Navratri of all these players was celebrated in Jodhpur. During this everyone was seen playing Garba. All the cricketers seen in these pictures are seen in red traditional attire.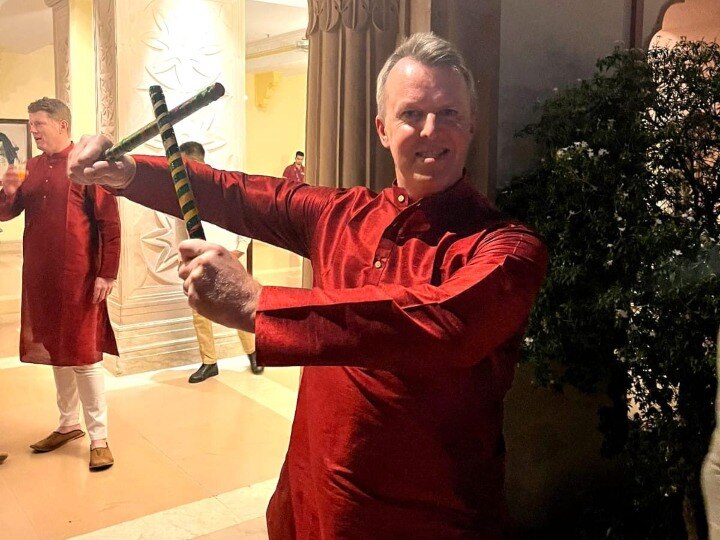 Played a quick innings in the last match
Chris Gayle was seen playing a stormy innings in a match played against Bhilwara Kings recently. He played an innings of 68 runs in 40 balls at a strike rate of 170. His innings included 9 fours and three long sixes. However, Gujarat Giants lost the match.
Read also:
T20 World Cup 2022: Hardik Pandya gears up for T20 World Cup, video of preparation surfaced