1. With 32M followers on Instagram, you are one of the most followed celebrities from Bollywood, how does it feel to get all the love from the people. 
It feels so surreal and fulfilling. The love of the people is what drives me and I feel so lucky for their support. My instagram is very close to me because I built it on my own organically . The content vibe and aesthetics is handled by me and I take pride in my Instagram. Recently my fans and the media celebrated me as the most followed Arab African artist in the world so that felt like a huge achievement and it's only the beginning for me and my fandom.
2. It has been quite a journey for you from wanting to become an actor to becoming one. What effort and work went behind this transition? Take us through it… 
It takes unconditional hard work and extreme persistence. The journey was and still is a tough one but step by step I'm getting there. It's a combination of many things. Including working on my craft constantly as an artist both in acting and performing, along with working on the language and working on myself as a brand. I know I'm capable of doing a lot in the acting world as I discover myself and learn more and I know I will slowly.

3. Bhuj: Pride of India came as a big surprise for all your fans who were ecstatic to watch you act. How was the experience for you?
The experience was great. I got to be a part of a film with such huge stars which just a few years ago seemed almost impossible. I went through alot of auditions, tests and workshops to be casted in the role of Heena. I'm just grateful I had this opportunity and I love how supportive and uplifting my fans were when the film was released. This experience just makes me want to push more for bigger performance oriented roles and I'm hoping I can grow more as a versatile actor in the future.
4. You have been a part of several superhit songs, how different do you feel is it to act in a music video as compared to working in a film?
They both have their challenges and both are very similar. There are alot of elements in a song that I have to embody in order to keep the audience intrigued and engaged within 3 min. Through lyrics one has to emote every word with the eyes, facial expressions and body language while also performing some intense and visually stunning dance moves.
5. Do you willingly want to do movies more than music videos now or would you want to continue doing those? 
 I want to do everything and why not! 
 6. Tell us 5 dance songs that you have done, which are your top picks. 
Dilbar, saki saki, ek toh kum zindigani, garmi, pepeta! 
 7. Out of all the songs you've been a part of, which is the one song which you can hear on loop and why?
 I can hear saaki saaki on loop because everything about it is so intense and powerful. It has such a vibe! 
 8. It is a known fact that every time you step out, people get served an awesome look. What goes behind looking stylish all the time? Do you actively get involved in picking your looks?
Yes, I'm actively a part of everything involving me! I dress according to what vibe I want to exude and it depends on my mood! But I firmly believe in always looking presentable, feminine and aspirational! Heels and a nice bag is always a must whenever possible.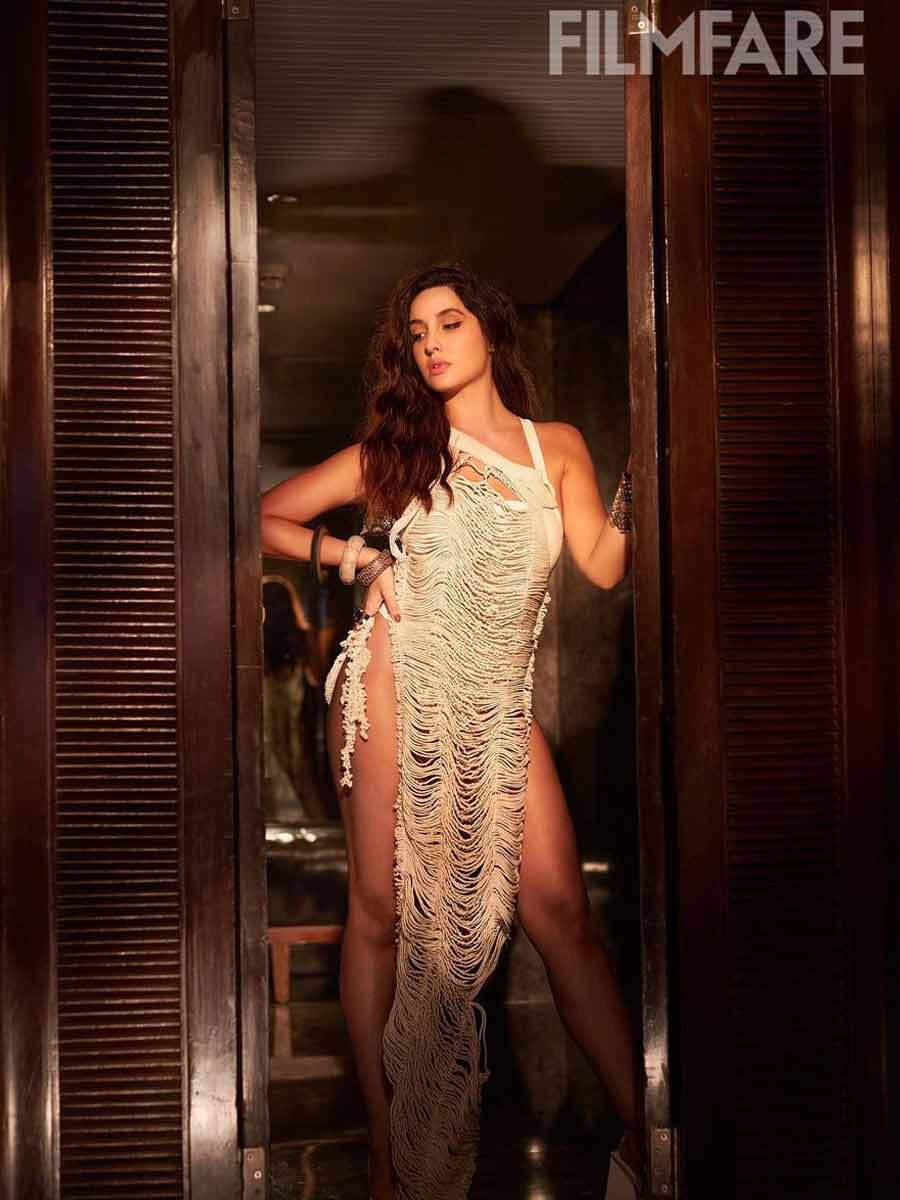 9. People even look up to you for a fit and fabulous figure, tell us more about your workout routine and the diet that you follow?
 I'm all about thickness and curves. Embracing my African genes and celebrating my femininity. I've been trying to gain weight for years. My diet and routines are different from many. I tend to lose weight very fast and I don't like that so I have to always remember to eat enough carbs and protein and to never skip a meal. Reduce stress whenever I can as that makes me skinny so fast, And ofcourse staying active through swimming, dancing and some light resistance training to stay toned. It's the age of curvy women and I'm here for it. 
10. If given an option, name the top three directors that you'd want to work with?
If given an opportunity, I would love to work with every director in the world so I get to challenge my abilities to the maximum, but obviously, I would love to work with Sanjay Leela Bhansali for sure, also Zoya Akhtar ,  Remo D'Souza or Anurag Kashyap or Raj Kumar Hirani or Shoojit Sircar
11. What is the one thing that you feel changed once stardom entered your life?
I don't think I've yet reached the phase mentally, where I consider myself a star, having said that, indeed from the time I began, I've gained a lot of experiences that have taught me that the same people who treated you badly will start chasing you after you become famous.
12. If given an option to tell one thing to Nora who was struggling years back, what would you say?
If I had an option, I would love to tell myself I'm proud of how strong you are and you will get through all these troubles. Don't get attached to temporary feelings and people, what's yours is coming to you!
13. Tell us 2 things that you want to happen in your life in another year.
(Jokingly) A three film deal with each leading production house in the industry right now. Jokes apart, I want to deliver my best in every avenue I cater to, try different things and entertain the audience through everything.
14. Tell us your favourite quote or a line that you live by.
I'm a believer of Karma and I strictly feel, "What goes around, comes around."